Far Left - Dennis Thompson, Back - Clive Chin, Front - Errol Thompson, Far Right - Augustus Pablo.

Augustus Pablo is recognized the world over as one of Jamaica's greatest instrumentalists and record producers. His Rockers label, like Sly and Robbies' Taxi label, has been at the forefront of reggae's musical experimentation.

Yet no other artist in Jamaica can boast of fame based on an unusual proficiency playing one of the lowliest musical instruments, the Melodica. When, in 1972, the instrumental Java was released, this bizarre plastic flute made Horace Swaby AKA Augustus Pablo a household name in Jamaica. To order the CD, which includes an additional eight Augustus Pablo tracks, please follow this link for Augustus Pablo - Rebel Rock Reggae.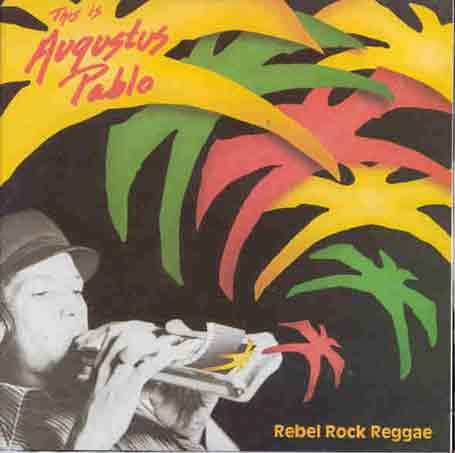 Produced By

Clive Chin and Pat Chin

All arrangements by

H. Swaby and C. Chin

Melodica

Augustus Pablo

Drums

Carlton Barrett
Lloyd 'Tinleg' Adams
Carlton 'Santa' Davies

Bass

Aston 'Family Man' Barrett
George 'Fully' Fullwood
Lloyd Parks

Guitar

Earl 'Chinna' Smith
Reggie Lewis
Ranchie McLean
Aston 'Fams' Barrett

Keyboards

Ansel Collins
Augustus Pablo
Glen Adams
Keith Sterling

Percussion

Clive Chin
Errol 'ET' Thompson

Additional Film Music By

Stephen J. 'Crazy' Bushell and Russ Bell-Brown

Album

AUGUSTUS PABLO

REBEL ROCK REGGAE - THIS IS AUGUSTUS PABLO

Released by

HEARTBEAT RECORDS


available in the UK from:

REGGAE REVIVE

27 Thamesgate,
St. Edmunds Road,
Dartford,
Kent DA1 5ND

Tel: + 44 (0) 132 227 1634
Fax: +44 (0) 700 072 6397

available in the USA from:

HEARTBEAT RECORDS

SKA-ROCKSTEADY-RAGGAE-ROOTS-DUB-DIGITAL ROOTS